Chanel makes history with its first show in Dakar, Senegal
Ever since Virginie Viard took over as Artistic Director of Chanel in 2019, her modus operandi has remained the same: meeting, dreaming, and building together, with others.
That sentiment embodies her choice to stage Chanel's 2022/23 Métiers d'art collection in Dakar, which the fashion set including Naomi Campbell, Pharrell and Charlotte Casiraghi descended upon to witness. The show which took place in the capital of Senegal, was the result of meetings three years ago with 'friends of the maison' who have lived there, and are carrying out artistic projects there and are "interested in its creative effervescence."
Chanel Métiers d'art 22/23
More than a fashion show, this event was a part of a three-day programme, starting on December 5th. Chanel invited distinguished artists, designers, personalities from the world of culture, students, and fashion editors who were mainly from Dakar and Senegal.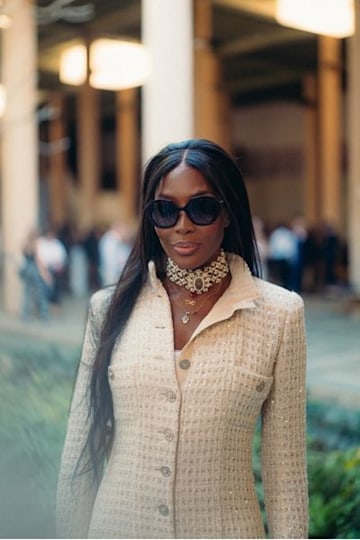 Naomi Campbell jetted in to Dakar for the event
Dakar is an influential artistic capital on the international scene, especially in all the fields that are dear to Chanel such as fashion, cinema, dance, literature, contemporary art, and music. "Going to Dakar means engaging in a dialogue with the country that welcomes us. The honour bestowed upon us must go hand in hand with concrete actions in terms of creative dialogue, transmission of know-how and sustainable development," Chanel explained in a statement.
"Going beyond the runway show, it's the event as a whole that I took into account," Virginie explained, "We've been thinking about it for three years. I wanted it to happen gently, over several days of deep, respectful dialoguing."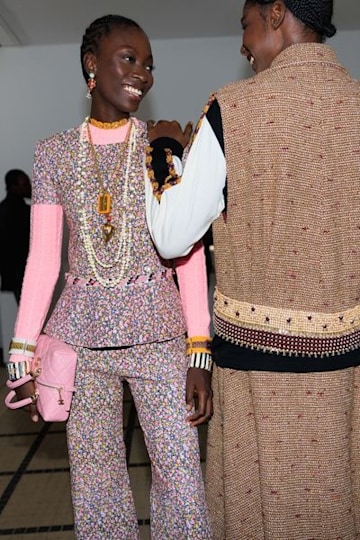 Backstage at the Chanel Métiers d'art 22/23 show
Chanel's show took place in Dakar's former Palais de Justice.  The choice of venue for the show was part of Chanel's goal to contribute to the art scene of Dakar, and they have pledged to helping with the renovation of the building. "The former Palais de Justice in Dakar, where not only the runway show but also a major part of the accompanying artistic programme are taking place, is one of the most beautiful venues we have ever presented a collection in," explains Virginie, "It was an obvious choice, and has been a source of inspiration as well."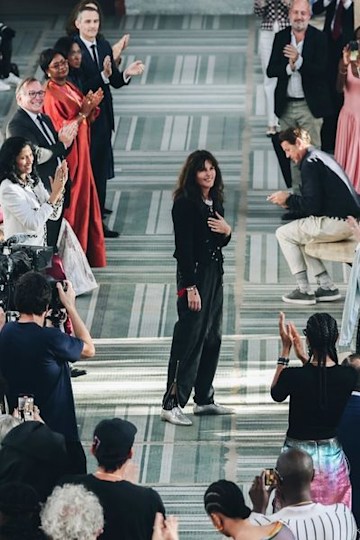 Virgine was touched by the reception the show recieved
In order to celebrate the artistic scene of this leading cultural capital the dance school 'École des Sables' and choreographer Dimitri Chamblas welcomed guests to the runway show. Dance music and fashion were then intertwined. A seventies spirit traverses the collection. The collection takes shape with long, fitted coats, tight, flared trousers, seventies collars, platform shoes, sweatshirts that are oversized, colourful and embroidered with flowers. An abundance of plant motifs, lines and geometric shapes, a profusion of warm colours, sequins and sparkling pendants permeate the collection.